Jorgemorales and aktorque are correct - the answer is
A. Blastomyces dermatitidis.
The rounded budding yeast forms of blastomycosis are shown here (image from
NEJM
).
CMV was the trap foil - the "owl's eyes" of CMV are inclusions with perinuclear halos. As Sandeep pointed out, there are several things which might look like owl-eyes: RS cells, CMV inclusions, giardia, lacunar cells... it's easy to fall into a trap.
While you might see abnormal leukocytes and other indications of SNV hantavirus pathophysiology on a normal stain, you would need immunostaining to localize SNV.
Pseudomonas would show up as gram-negative rods, much smaller than cells, and pneumococcus would show gram-positive diplococci.
Meka and jorgemorales were right when they pointed out the SLE Hx as indicating possible immunosuppression. Thanks for the Tx, aktorque!
Here are some pictures to help differentiate some owl-eye-looking things: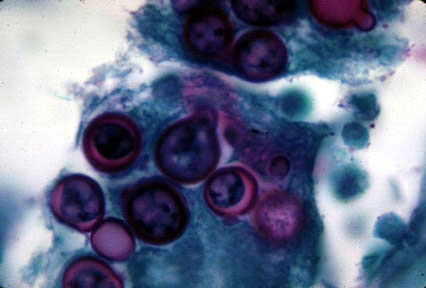 Above, blastomycosis again
Below, cyotmegalovirus
Above, cytomegalovirus
Below, Reed Sternberg cells
Above, Reed Sternberg cells
Below,
Giardia lamblia