That can be a tricky question!
Audiometry: All children with a history suggestive of Alport syndrome should undergo high-frequency audiometry to confirm the diagnosis (ie, high-frequency sensorineural hearing loss), as well as periodic monitoring.
Ophthalmologic evaluation: Ophthalmologic examination is important for the early detection and monitoring of anterior lenticonus, perimacular flecks, and other eye lesions.
Percutaneous renal biopsy is an important part of the diagnostic workup. Biopsy may be deferred in a patient with a strong family history of biopsy-proven Alport disease who presents with characteristic clinical features.
The most characteristic finding Is GBM splitting.
Because the a5 chain of type IV collagen is also expressed in the epidermis, immunofluorescence examination of a skin biopsy specimen can be used to establish the diagnosis. Approximately 80% of male patients and 60% of female patients with X-linked Alport syndrome have no a5(IV) collagen in epidermal BM.
This approach is especially useful if a kidney biopsy poses an excessive risk, such as in patients with end-stage renal disease (ESRD).
Genetic analyss is the only means for diagnosing the carrier state in asymptomatic female individuals with a family history of X-linked Alport syndrome. Genetic analysis is also the only means for making a prenatal diagnosis. However, screening for randomly distributed mutations within the large collagen-chain genes is tedious, expensive, and time consuming.. In addition, the sensitivity is not high, and the current rate of identification of mutations in Alport kindreds is 50-80% at best.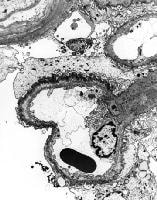 Electron micrograph from a patient with Alport syndrome revealing the typical splitting and splintering of the glomerular basement membrane.