A 38-year-old man with chronic migraine, 6 months history of worsening of back pain, hematuria, anorexia and malaise. He was found to have hypertension. IVP is shown below. Which of the following is most likely associated with the patient's clinical findings?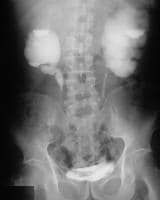 A.
Adult polycystic kidney disease
B.
Amyloidosis
C.
Renal cell carcinoma
D.
Drug
E.
Homocystinuria