Discussion Starter
·
#1
·
hey fellas,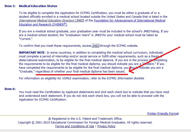 ​
press on the photo to enlarge
​
when i was applying today for the IWA i wanted to make sure of two points
first one, according to what u see in the attached photo, my situation is that i am a graduate of
nov.2009
but we have to do mandatory internship year starting from
march 2010 till end feb 2011
so this means i have to apply as a
STUDENT
not a graduate as i am still in the last two months of my internship year
the second point is: my graduation date, is it
march 2011
the date i finish my internship to be eligible for the final diploma or the original one
nov. 2009
when i finished my 6th year exams?
plz help me with this as i don't wanna apply any info without being sure...thanks in advance
to summarize,

Am i a

student

or

graduate

?
my graduation is

nov2009

or

march 2011

?
​
btw, when i came to the question whether i am a student or graduate i just logged out, i didn't see any save button. is this alright?