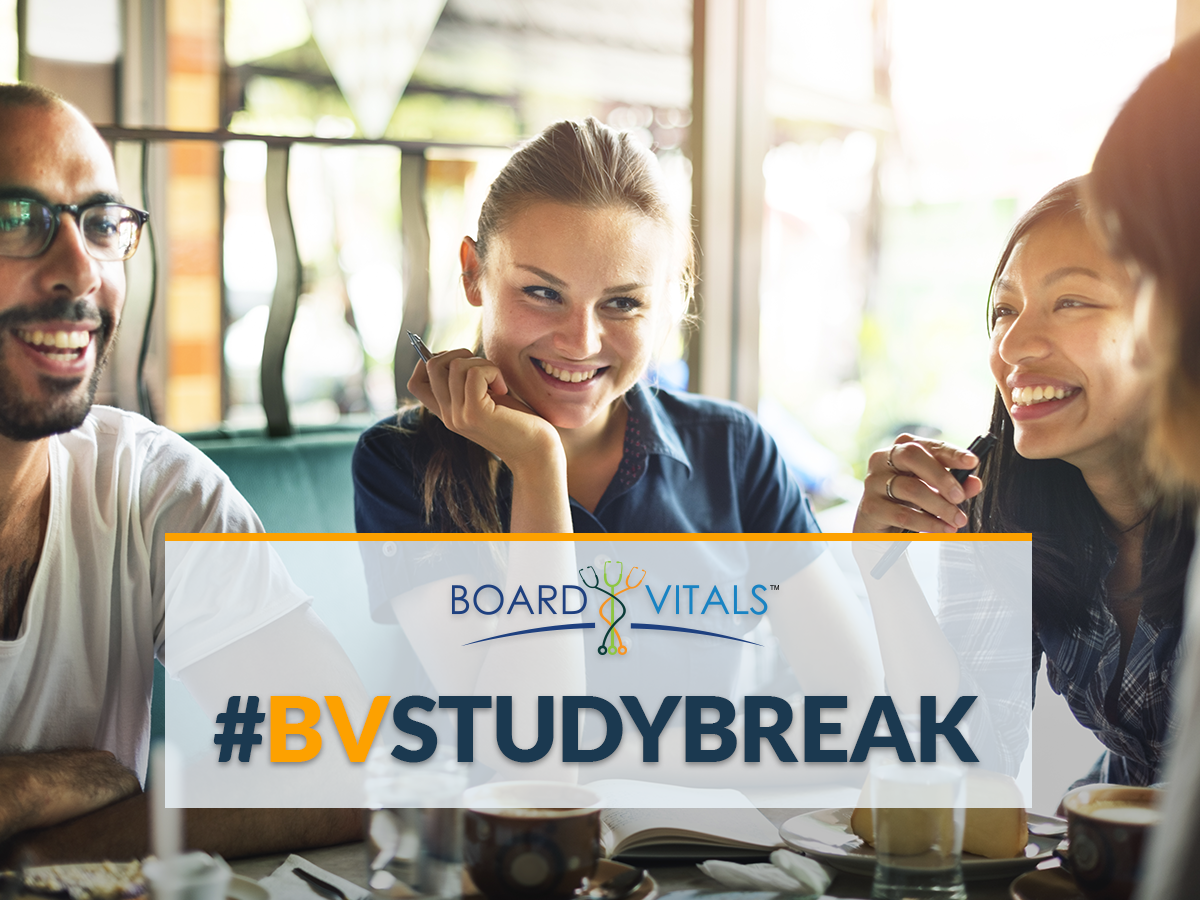 Acing the USMLE Step 2CK exam requires you to spend a lot of time with your head in the books. After a prolonged period of studying, most of us find ourselves struggling to concentrate. For years,
studies
have shown that taking brief breaks from a task can improve one's ability to focus on a task for a longer period of time. This is why we are excited to announce the start of our social media sweepstakes, #BVStudyBreak, which is meant to encourage all of you to partake in healthy study breaks while getting ready for the USMLE Step 2CK exam, show off what you do for fun, and be entered to win some BoardVitals swag.
You may remember from when you took the Step 1 exam, that during the weeks leading up to it, you may have felt like you were completely drowning in information and consumed by studying. It may have been overwhelming, draining, and stressful. Here at BoardVitals, we know that striking a balance between school, work, and personal life is key to passing your exams.
Show us how you take study breaks! What are you passionate about? What do you do to kick back & relax? How do you make time in your busy study schedule to take a break from studying? Share what you do, and you'll be entered to win some cool BoardVitals swag and FREE access to one of our question banks.
We'll be running this promotion until the end of
August 2017
so act fast so we can get your entries!
Click here for details on how to enter the sweepstakes & win awesome prizes, and for some creative study break ideas.
You can also click
here
to read more about our USMLE Step 2 question bank and tips for passing the USMLE Step 2CK exam.

The USMLE Step 2 Question Bank Includes:
900+ challenging board review questions
Detailed explanations and evidence based rationales
Timed Mode and Review Mode available
Individualized Learning based on performance
100% Pass Guarantee!
About BoardVitals
BoardVitals brings together content from major publishers, universities, and top healthcare professionals, creating the largest training ecosystem in medicine. BoardVitals helps physicians prepare for medical board exams, re-certification exams (MOC), CME, and in-service exams offering high-yield content in over 30 specialties.
BoardVitals contributors are experts from top tier academic and practicing institutions such as Harvard, Yale, Duke, and Mt. Sinai helping us create the best content on the market.